Every residential solar panel project is unique. At EFS Energy, we provide custom solar power solutions to homeowners. Here we're sharing some of the unique details in this project spotlight of a residential solar panel project installed this year in Fenton, Missouri.
Project Spotlight: 9.3kW Residential Solar in Fenton, Missouri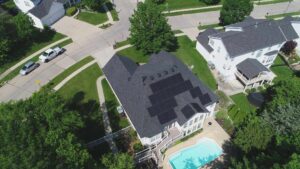 This residential solar installation project features 310W Silfab panels. These solar panels work to produce 12,943 kWhs per year for this eco-conscious family in Fenton, MO. That's equivalent to offsetting 21,766 miles driven by the average car, per year! The solar array features: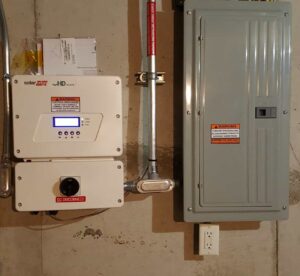 30 310W Silfab panels (made in North America), creating a 9.3kW system that provides 90-100% of annual electrical needs for the home.
All black panels.
Integrated racking system.
Concealed wire management, for aesthetic appeal.
SolarEdge HD Wave technology inverter system for maximum performance, monitoring, and reliability.
Thinking of going solar in 2018?
Meet up with EFS Energy at one of our upcoming solar happy hour events! Every month we host a casual – and FREE! – happy hour event in St. Louis as a place for sustainability-minded people to learn more about new solar energy incentives, credits, over a craft beer and appetizers. Find details on our next solar happy hour event here on our Facebook page.