If you live in Southern Illinois, you've likely been hearing a lot about rising electricity bills lately. Ameren Illinois announced recently that, starting in June, customers will see increases in their electric bill – on average, an extra $52 monthly, or $626 annually. But why are energy costs rising so steeply, and what can you do about it? 
Ameren Illinois tells customers that the increase is because power costs more right now – and they're quick to remind customers that Ameren does not produce the power themselves, so they aren't profiting off of the increase. They've told customers that this is due to skyrocketing natural gas prices, partly due to the war in Ukraine and sanctions against Russian natural gas. The company speaks of shuttered coal plants, which are going offline at a faster rate than they can be replaced by renewable energy plants.
All of this is generally true, but the story is a bit bigger than that. And to understand it, you have to know a bit about the North American electric grid. The grid is broken up into different regional segments, managed by an Independent System Operator (ISO).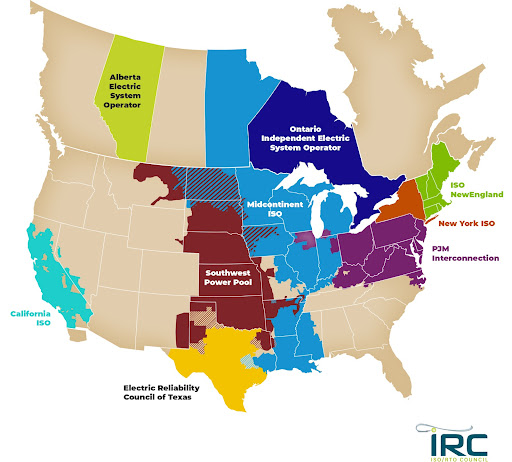 Most of Illinois falls within the Midcontinent Independent System Operator, or MISO, as shown on the map at right. These system operators manage electricity transmission within the region – conducting the planning needed to ensure adequate power is provided wherever it's needed throughout the region. Power plants producing excess energy can sell capacity to areas that need more, and vice versa. And ISOs manage all of this, ensuring a balance of supply and demand on their section of the electricity grid, and even between ISOs in certain cases. 
In the northern and central regions of MISO this year, prices for acquiring energy increased dramatically, which is now driving up costs for Southern Illinois customers. This is the result of a problem that's been building for years – and that MISO has been well aware of. 
At the heart of the problem is that coal plants have become uneconomic in recent years, due to market forces (in large part due to previously cheap fracked gas). And coal plants going offline haven't been replaced rapidly enough by clean energy. It's not that there aren't plenty of clean energy projects ready to break ground, but rather the shortfall is due to regulatory barriers, delays in needed transmission infrastructure upgrades, and reluctance on the part of some utilities. 
Now, with natural gas prices on the rise due to the Russia-Ukraine conflict, the US's multi-year increase in exports of natural gas, and an insufficient quantity of affordable, clean energy currently connected to the grid, prices are on the rise in many parts of the US (For a more detailed explanation of the larger grid problems and solutions, check out this blog from J.C. Kibbey at the National Resources Defense Council). 
Clean energy resources like solar, wind, energy efficiency and energy storage can meet our energy needs and maintain a reliable electricity supply at an affordable price. But poor planning and disinformation from fossil fuel interests have delayed our ability to manage the energy transition most effectively, and now everyday people are paying the price. However, we know that we have the solutions we need to build a better energy future, where this doesn't have to keep happening – and we encourage you to get involved with clean energy advocacy! 
But the even better news is that you can take steps right now to protect yourself from future energy price increases. You can start the process of going solar with local solar energy experts, like EFS Energy. We design and build custom solar energy systems for homes, businesses, farms and other organizations, so Illinoisans can decrease their reliance on their utility and save significant money on electricity. 
But how does solar help insulate you from energy price escalations? Though you still remain connected to the utility grid when you go solar, your array can produce a significant portion of your electricity needs, and any excess electricity you send back to the utility is compensated with a bill credit, offsetting the cost of electricity you do buy from the utility (i.e. at night when your solar isn't producing electricity). So right away, you can reduce your utility bill, but the savings over the long term are even more impactful. We like to explain it this way – if, in 1995, someone offered you the option to purchase all your gasoline in bulk for the next 30 years (at the very low 1995 price of ~$1.15/gallon) – how much money would you have saved on fuel? A whole lot, right? 
Installing solar is somewhat analogous to this scenario. When you purchase solar, you're really purchasing a certain amount of energy over the system's 30 year-plus lifetime. You'll be able to produce energy from that initial investment (whether that's an outright purchase or financing) for years to come, while utility energy costs just keep rising. Not to mention, solar increases your home value and helps contribute to a cleaner environment for all. 
And, in Illinois, there are a variety of incentives available to help lower the upfront cost of solar, so it may not be as expensive as you think. At EFS Energy, we identify relevant rebates and incentives for you when we design your solar energy system. But to give you a few examples, here's just some of what Illinois has to offer to help lower the cost of going solar:  
Anyone can receive incentives through the

Illinois Shines

program to help offset the cost of your system. 

Income-qualifying households (homeowners or tenants) and nonprofits and public facilities can receive significantly higher incentives through the

Illinois Solar For All

program to help ensure greater access to solar benefits. 

Many homeowners and businesses may also be able to take advantage of the federal

solar Investment Tax Credit

. 
Give EFS Energy a call at 314-771-5131 to start your solar journey today! We'll get started figuring out the best solar options for you to save money today and in the years to come. 
For those seeking immediate electricity bill help or assistance with energy efficiency upgrades, you can check out the offerings on Ameren Illinois's website, or give them a call to figure out your options.